I usually use home made jigs to align coach ends before soldering. It works, but it's tricky to see all sides of the joint before applying solder/adhesive. This usually means a bit of re-aligning and tweaking.
I'm a sucker for jigs and so forth, so I thought I'd give York Model Making's Mini Squares a try.
They come in 2 halves and split so: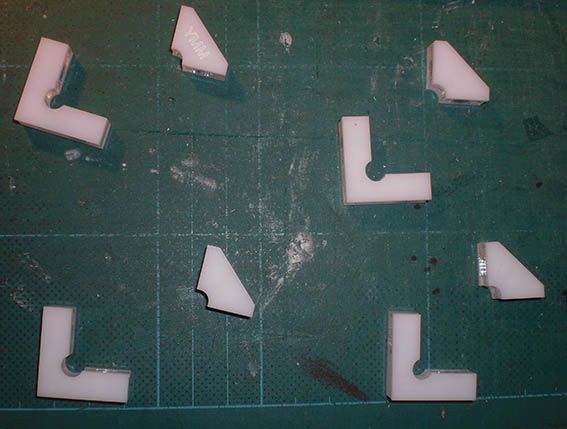 I'm putting together some vans for a projected layout, so I thought these would be a good test, rather than thin brass. One sits inside and one outside the two parts. Strong magnets lock the two parts together.
The advantage being you can line them up and check all faces are flush.
The squares hold the parts rock solid - but you can easily move components to fit and line them up.
Once aligned, glue can be run along the inside of the joint.
While setting the other half was joined.
Then once they had set both were fixed together.
The squares also enable you to handle the units without touching the plastic parts.
It's easy to check all is square and dandy at each stage.
A box is born.
All in all I think these are a boon. They ensure the parts are square before soldering/gluing; they keep fingers away from joints; hold the parts during setting and enable you to pick up and move the parts while they dry. I know ends etc can be set by using triangular pieces of plasticard, but overall these mini squares sped up the process up by 50%.
Andy