Bar Realistic Conifers ( which look amazing ) I couldn't see a thread on the subject of tree making, so created this. If there is one already that i've missed then by all means merge this into it.
My first layout is set amongst a belt of woodland. The plan was to have the diorama in Autumn, but my experiments looked like they belong to a poor man's munchkin village.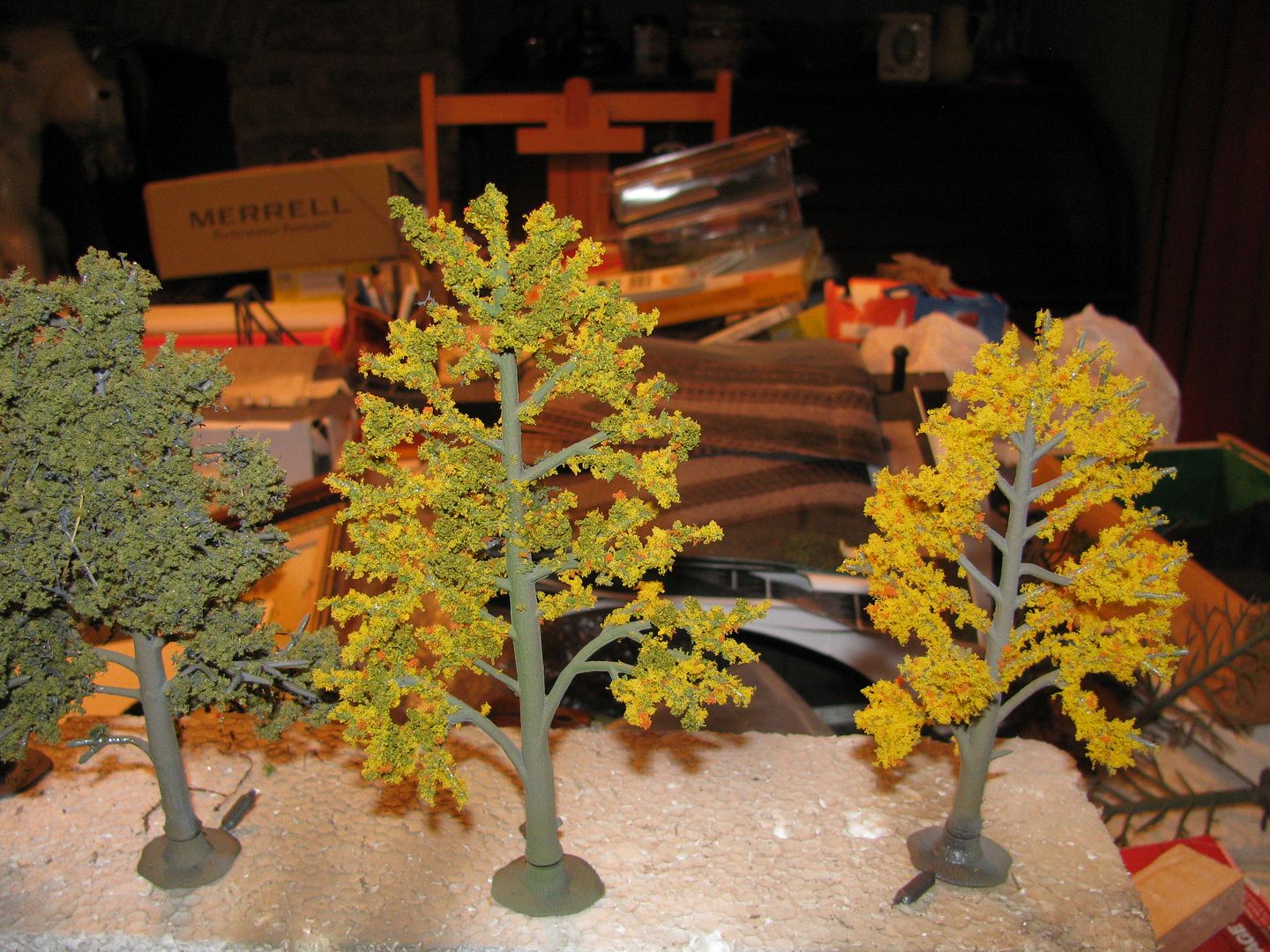 I've looked about a few places online but have not personally found any autumn landscapes or promo pics that look particularly life like. Still as I had brought the Woodland trees scenics kits I decided to fill them up with the more common fine leave foliage for a separate planned layout and to get some experience in.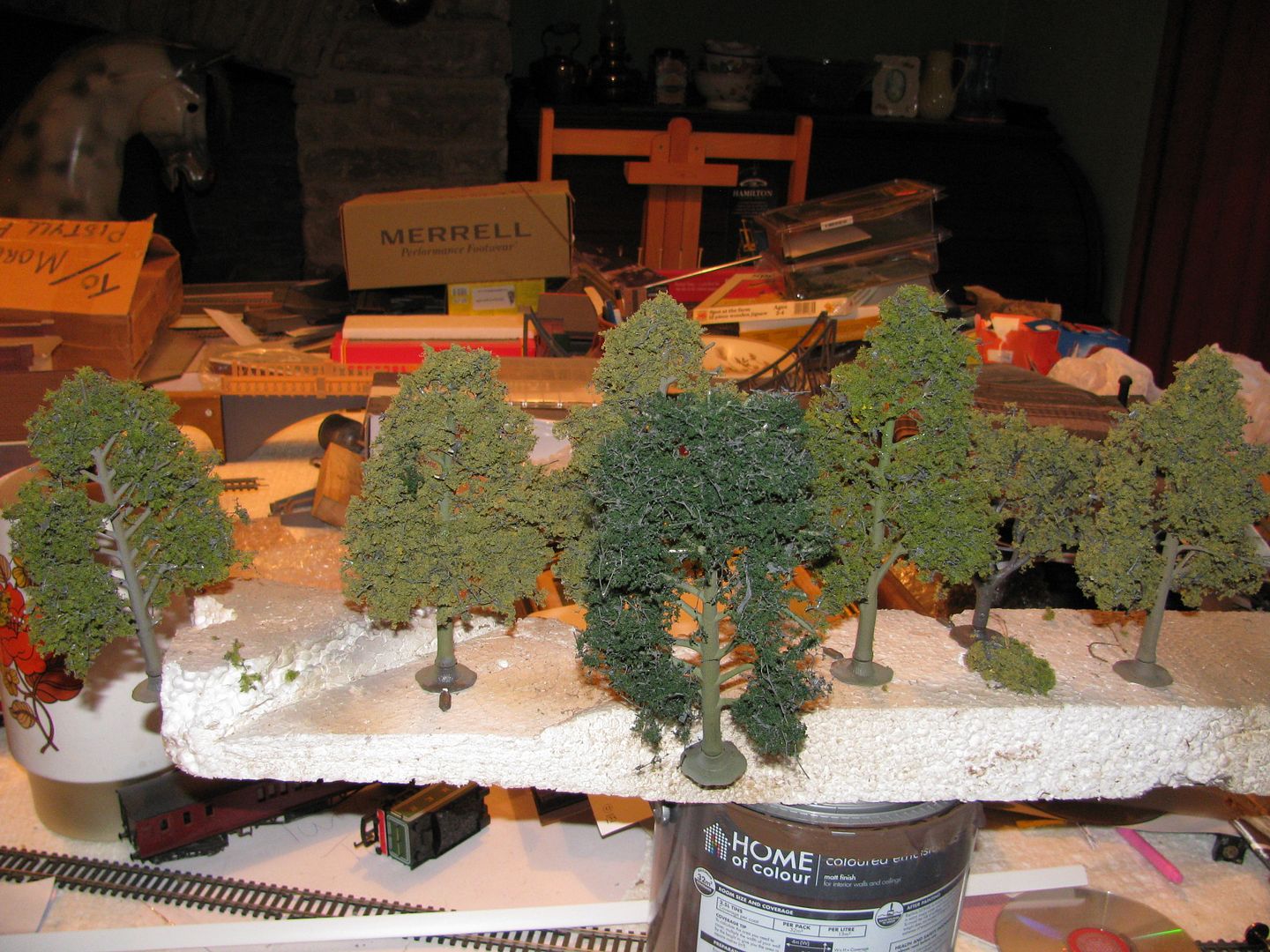 They look fairly good actually but i'm finding the Hob-e-Tac is not holding the clumps as well as the promo vids would have you believe. The trunks on some of the flat kit moulds need a bit of bulking up regardless. Does anyone have a good recommendation for adding a second layer? I've seen vids of Stikatak being used with rubberised horse hair, but i'm not sure if this is only more suitable for larger lumps. With a larger quantity of scenic cement I could try dipping them in bowls of the solution, but this might still be a bit weak to secure them more firmly onto the branches. The biggest of these plastics tree kits are only 5"-7" so I wanted to make some more realistic sized trees to augment them. I found in the larger warehouse B&Q stores that they supply coiled steel wire. Its a little pricy but comes in two thickness. My first two experiments are about 1ft high, which in scale terms is roughly 25m.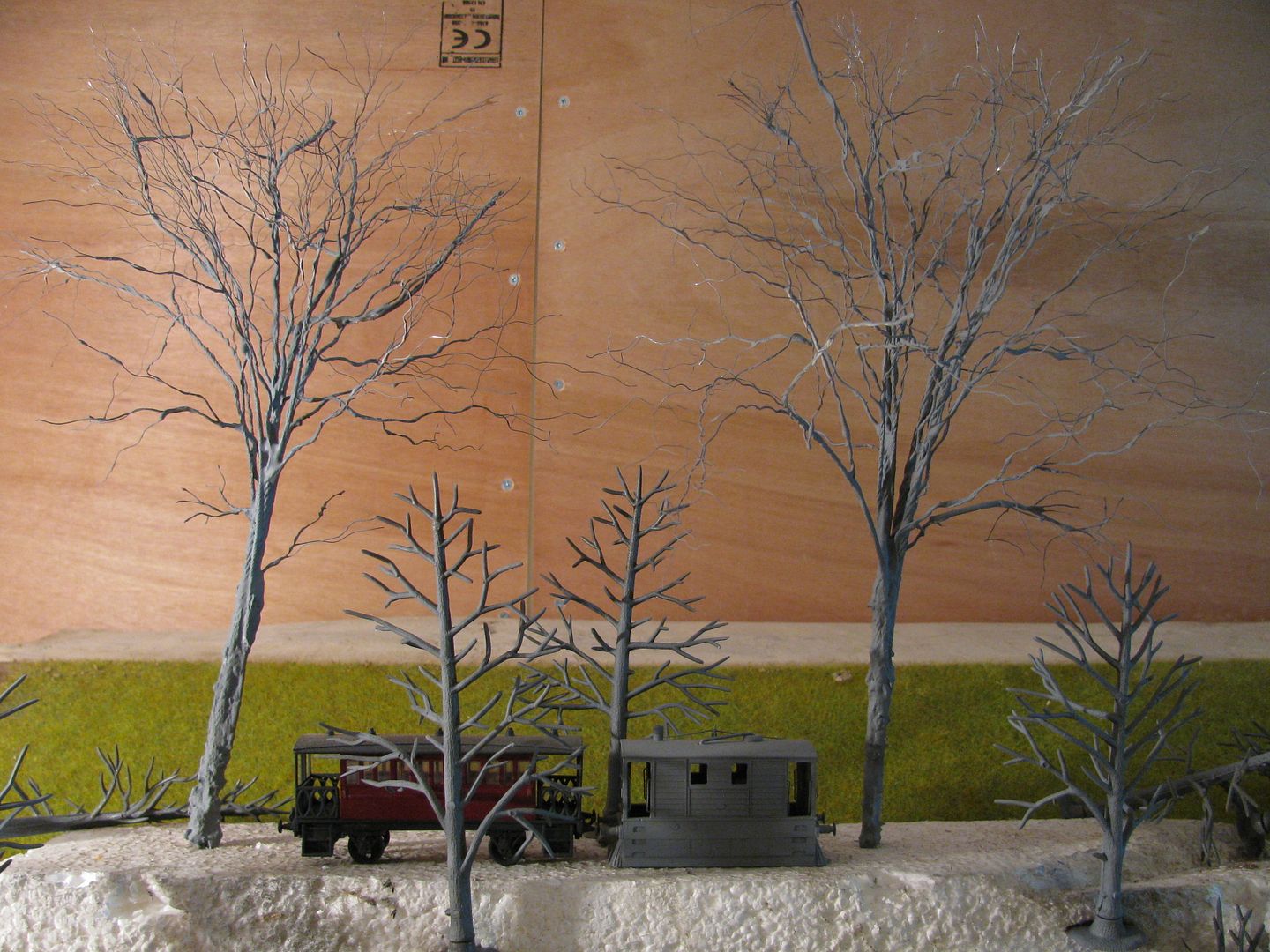 * Handy little site I found for doing quick scale measurements.
http://scale-models.nl/scalc.html
You can certainly get taller trees in real life than these of corse, but I think if you go much higher in 76 scale it might ( depending on the setting ) come across as overbearing. The wire was covered over in the usual glue heavy-polycel mix ( two coats ). I sprayed the whole tree over with the same car primer I used on the J70 kit that i've include to show the size comparison, but in the future i'll be using a lighter grey, as its is too dark for tree bark. I mist coated over the grey with Humbrol Acrylic's Dark Brown, which seems a good choice. Anyway here is the result with fine leaf foliage added on, next to some of the stalks as they come in the box for comparison.
It wasn't bad, but really it needed more branches lower down-this is from using 6 cut lengths, but for larger trees i've now gone up to 10 lengths. The biggest draw back i've found is the price, as a tree 1ft or so in size uses up an entire Woodland Scenics fine leaf foliage box, which are about £10 or more! I'm wondering if anyone has any tips on making good large trees in a more economic way. Experimenting further I think the large sized coiled wire will be ideal for trees that are in leaf, as you simply don't need to go into too fine a detail with the ends of the branches. I will be trying rubberised horse hair clumps with foliage added on top, as demonstrated by Barry Norman in the Right Track 6 DVD down the road, but my revised plan is to proceed with making winter trees for the layout at hand. For this the finer wire comes in handy. I did try the more common practice of using electrical wire on the ends to represent twigs but its a bit of a faffle and the wire is floppy. I'm sure this would be handy on trees such as weeping willows but found by splicing the cut lengths down to the individual stands you come to the same result and without the chunky wire covering, plus this is more rigid, making it suitable for manipulation.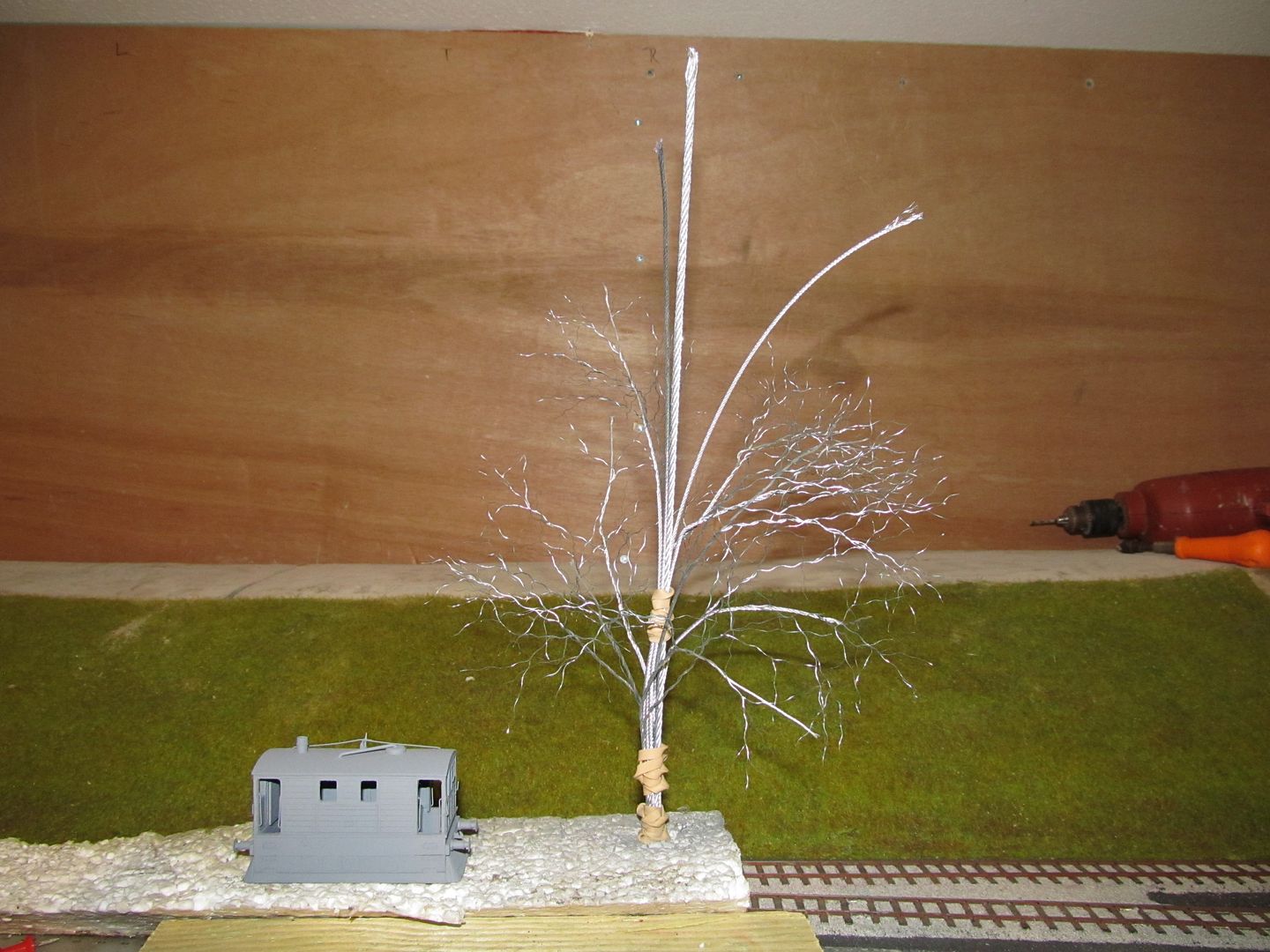 I've been making them in various ways, which offers a nice bit of individuality and is handy for seeing what works and what doesn't. Soldering the cut lengths together at the base is a little tricky but lovely for making a bumpy swollen trunk. Tape is nice for a thiner strait trunk, but with the masking tape i've been using at least I found these can unravel. I've now settled on tape covered by an elastic band to prevent it unraveling or just using elastic bands ( free from the postman if you save them up
). Anyway i've made enough for a copse so far.
Its going to take me a while to make enough for a woodland along my linear layout as I think it will require a little over 100 in all but it should be different at least. I'm happy to answer any questions on the details of how i've been going about these but otherwise curious if anyone has any tips from their own projects.
Cheers
Steve