Unlike the Furness K2 thread where I basically video logged the build of a freelance variant and then showed it you, in this one I will give standard blog style updates so you can see the progress.
Ok then, time for something tangible. It's been over 6 months of riveting 'meshin,' for the J1, very much indeed because of all those damn rivets. In the research it seemed quite clearly that there were at least 3 different rivet patterns for the J1 and so these took most of the time, positioning the correct amount in the spaces provided and sizing them was a swine cake, then I decided to round them all off as they should be and it caused all those lagging issues previously explained. So as a reminder, the body comes with 1 small chimney shank that slots into the base, the buffers are sprued underneath and the smokebox is sprued roughly in place protruding a little. Cab roof is included and loose so non sprued. For the backhead and other chimneys due to the data issues you'll have to get the separate pack unfortunately. I did want them all in the same file but what can you do?
Anyway, enough waffle, here is a not so cheap FXD print on the desk after its white spirit dunk...
Bum view
Almost bum view
Chimneys and backhead (Backhead based on the K2 and tweaked slightly. Info lacking so if anything significant comes up it can be changed.)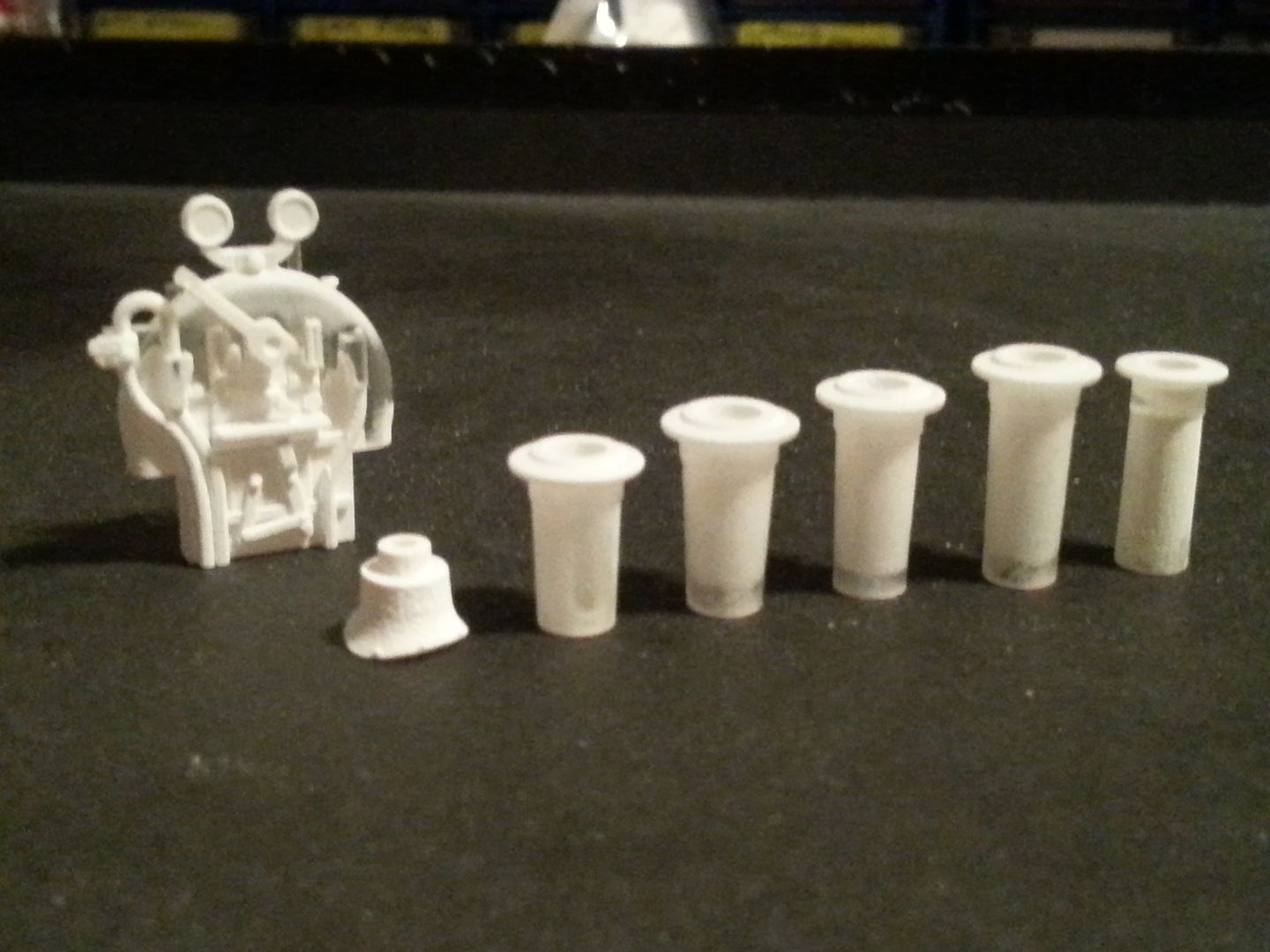 The optional base is so you can use them on a different engine if you want to. Good to at least give the option. Rather than the usual method of having loads of full chimneys to interchange having the shanks interchangeable instead allows you to change the engine or period to a degree at a whim. The chimney base has a slight step as it should before the main shank so it provides a perfect join point.
WSF P4 Chassis clipped into place. Fixed axle.
Here we see the body with the small chimney plonked in position along with the roof for show.
And here we see the ancient looking 'Chocker' chimney on display instead, the smokebox door has been de-sprued and pushed home and the buffers likewise. The J1 also ran with several buffer types but the kit only has these more ornate ones. Others can be made if there is demand though.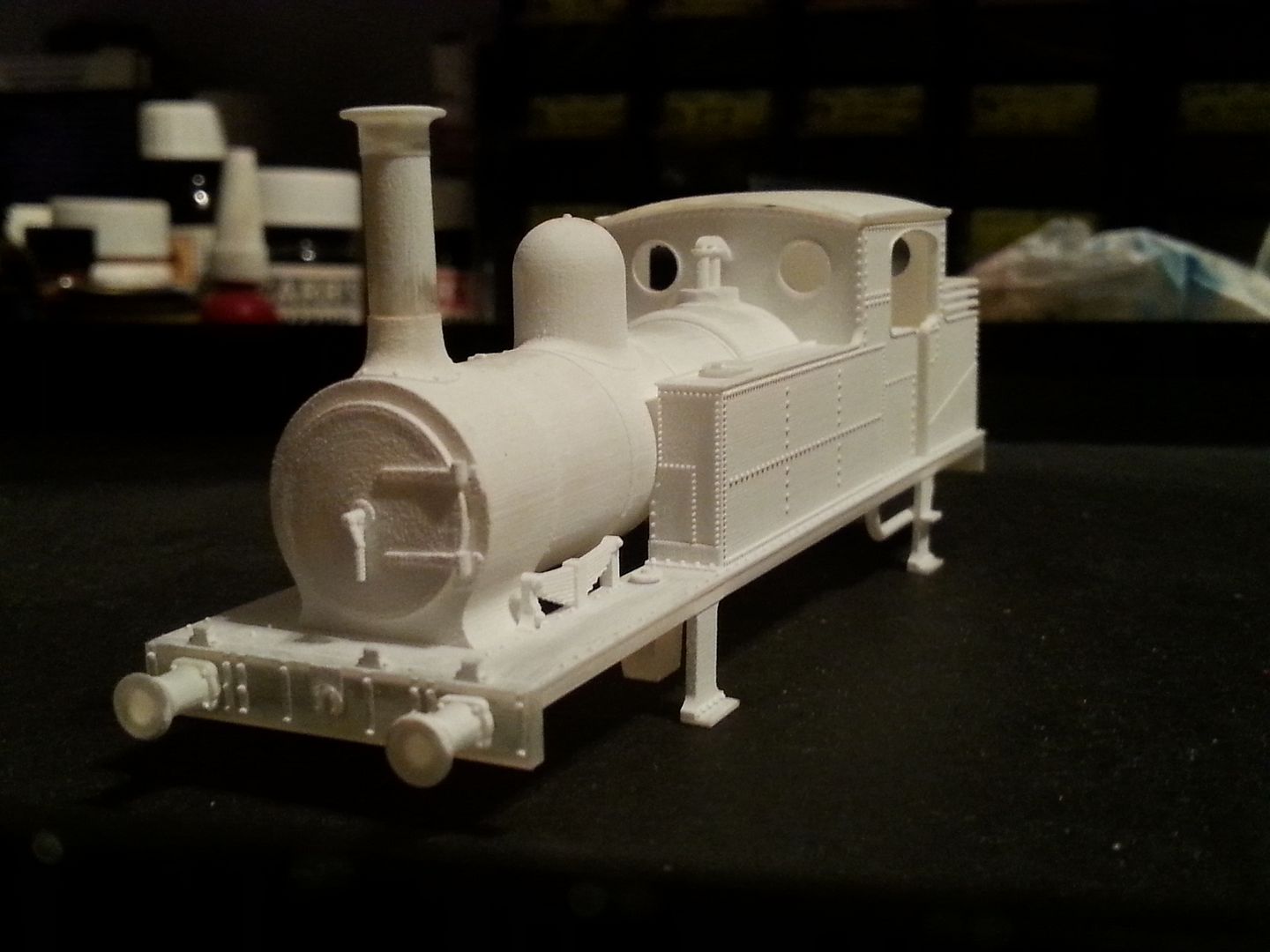 And for now at least there you have it.
More waffle...
So as you can see the surface detail still needs a little clean up but it is so far better than the FUD prints that I have had...which are better than the WSF prints. Fibre glass brush and chiseling action carefully in between the nice rivets is the order of the day. I paid extra to reduce the amount of clean up required due to the rivets so thankfully it is smoothing down a lot easier. Whatever material you get from Shapeways they will (so far to my knowledge) require a certain amount of preparation work before painting, but either way it is about 30 times quicker than building up an etched kit! Not dissing etched kits BTW, very much a fan of them.
What I am going to do is build the P4 Chassis as a fixed axle, probably find out my mini layout doesn't like it (1: its P4, 2: I'm not the most experienced at building P&C) and then probably buy another chassis and try modifying it for compensation or springing. I have to date built a few etched kits and a few of these fixed axle SCC chassis but only one was done against the instructions when I tweaked a SE Finecast E2 chassis for P4 and Alan Gibson springing - which worked out pretty good.
Many (especially older) etched kits are designed as a fixed axle and the builder then has to modify them for compensating and springing. So far all the SCC chassis are of the same fixed axle format so there is no difference here. When I get around to modding one it will be as much of an experiment to me as it may be to some of you.
In the future I plan to incrementally bring in etched chassis for everything also to account for the traditional ways and then hopefully people can choose what they would like. A) The usual etched ways good for modifications, B) Easy peasy 3D printed ways less good for modifications. We can't please everyone in this life but we can try!
So with that I'll now go away.
Please drop some comments good or bad, until next time...
EDIT: Just noticed I forgot to add the leaf springs, what a numpty! Will edit the uploads soon.