On a certain email group(*) Martin Wynne extolled the virtues of making your own soldering iron bits out of copper. Since I was in need of some new bits, I thought I'd have a go. Here's what Martin suggested:
Plated bits are fine for electronics, but I much prefer a plain copper bit for modelling. Much easier to keep clean, solder flows cleanly from it, and it's quickly filed back to shape when it gets worn.
You can buy a length of copper bar from Eileen's Emporium and make half a dozen different shaped bits for different jobs. The Weller irons accept plain 5/16" dia copper bar.
If anyone is struggling to learn to solder, try starting with a plain copper bit freshly filed. Tin it with cored solder *as it warms up*, and off you go...
I have a Weller WSP 80 and it certainly wouldn't accept 5/16" bar. The Weller soldering iron bit sizes do vary depending on which model. The WSP 80 accepts 6mm bar however.
The most difficult exercise was turning a shoulder on the copper. This is required so that a sleeve can fit around the bit and secure it in position on the element. The turning was made easier by using milk as a lubricant. The tip of the soldering bit was filed and, with the aid of some wet and dry paper, a smooth finish was easily achieved.
Next to tin the bit I used cored solder as Martin suggested and this took very well but did leave a residue which was the rosin in the solder. Slightly unhappy about this I sanded the parts of the bit affected with wet and dry back to the copper and dipped the bit in Carr's 188 solder paint and then turned the soldering iron on and let the solder paint fizz. I neutralized the bit by dipping it in a 50/50 mix of meths(no IPA to hand) and distilled water while still hot. Here is the result, along with a drawing should anyone else have a suitable soldering iron (the element, bit and sleeve arrangement on the Weller soldering irons was its selling point, if you have an Antex you're stuck with buying expensive bits, I don't know what Ersa soldering irons are like):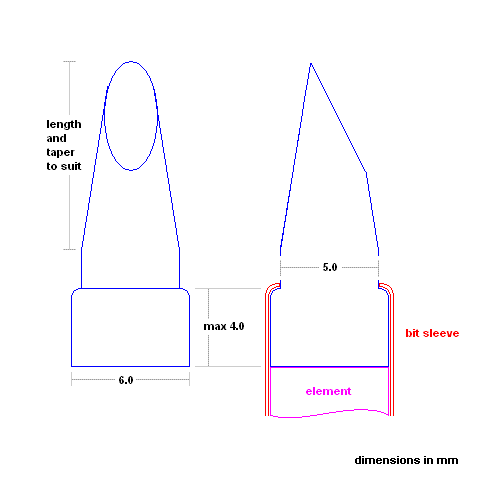 (*)Brain Lewis' finescale yahoo group