Just kicking this one off to record a few thoughts on railcars and railbuses for Neversay. The usual, warnings apply:- (1) Please don't take my efforts too seriously. (2) I am only messing about, so if it doesn't work I don't mind. I can always try something else. (3) I am not deliberately trying to damage the reputation of manufacturers or the Scalefour Society in any way. (4) My reputation is not important. I don't mind making a fool of myself.
In theory, a small railcar or railbus ought to be a quick route to building a train; a vehicle that propels itself and carries passengers. Desperate for a few 'quick wins', I have been scouring books and the good old Internet for ideas. For many, a Bachmann DMU quickly fitted with Branchlines conversion wheels is probably by far the quickest route to a working P4 passenger train. None are really even remotely appropriate for my little tramway though. Not even the Heljan railbuses fit the bill - apart from anything else, they are all slightly too modern.
There is nothing much in the way of kits either. Worsley Works do scratch-aid kits for Colonel Stephens-style railcars, but (not complaining) they really do require a lot of work by the modeller to turn them into accurate, working models. Despite this, I acquired a Worsley Works double K&ESR Ford railcar kit anyway. I found one going cheap on Ebay.
I am caught between the devil and the deep blue sea here. Colonel Stephens' designs only ran on his railways. Putting one exactly the same on my tramway would be wrong, or at least very unlikely. Equally, making a unique "Neversay" railbus would be totally inaccurate as the tramway is totally fictitious. This option does offer more scope for my imagination though, which sounds like fun! Basing an imaginary one on real-life prototypes and features does hopefully make even fictitious stock seem just a little more believable. There are plenty of different adaptations of Ford chassis on the Internet. One that particularly caught my eye as ripe for a Worsley Ford conversion was one that ran on the Dublin & Blessington. The photo is copyrighted, so I have put a link to the photo.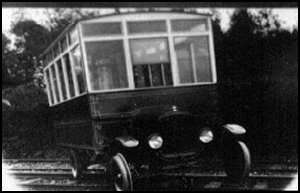 on page
http://gofree.indigo.ie/~nigelo/photographs.htm
This had a body very similar to the Worsley kit, but with a rear entrance (one side only). I found a photo in a book, but don't want to infringe copyright by reproducing it here. Basing my railbuses very roughly on this design has definite appeal. The plan is to model two of these permanently coupled back to back, using parts from the Worsley kits, as appropriate.
Power
Powering these small railcars in 4mm scale seems to be a perennial problem. The usual way is to power just one axle – simple, but not necessarily ideal. Getting enough weight on the axle to push 2 railcars is an issue. Powering one railcar using both axles must be possible, but a gear wheel on the front axle would be very conspicuous. A motor within the body of the railcar, with its large window area, is difficult to conceal. A third option would be to power an intermediate powered trailer, but I don't really want one of those.
Another alternative is to power the rear axle of both cars. One motor in each car is one way, but not ideal. My wacky idea, which really appeals in this instance, is to make a kind of powered bogie arrangement out of the two rear axles. This ought to improve traction, as both axles would be connected through gears. My sharpest curve is only 4ft radius, so the wheels will not need to move very far laterally, if at all. I can probably get away with it in this instance because the steps at the rear of the railcar bodies will largely hide the bogie. Some kind of simple corridor connection between the two railcars might also help, if necessary.
I bought a High Level Lowrider bogie kit a while back. This just happens to be more or less exactly the wheelbase I need. If I reduce it to a minimal profile and it should be fairly inconspicuous (I hope!). To add to the subterfuge, I may try somehow to connect it to a smaller motor than the Mashima 1420 that comes with the kit. OK, it's a crazy idea, but I am just a little bit desperate! It will be reassuring to think that, however I might try, I doubt I could ever hide the motor and transmission completely in such an open body.
Wheels
A perennial problem for me is going to be supplies of small diameter P4 wheels. Gibson and Ultrascale only go down to around 11mm diameter, which is too large for many project ideas. Ultrascale do the 'Model Rail' Sentinel conversion wheels at 10mm diameter with 1.5mm stub axles, which probably have potential for other things. For 6 and 7mm diameter wheels, then Farish N gauge wheels seem a reasonable compromise. I have convinced myself that I can adapt these relatively easily to run on P4 track. Unfortunately, quite a lot of railcars I have looked at require 8 or 9mm wheels. I managed to find a small supply of Romford OO gauge 7 and 9mm wheels, which may be adaptable, but that still leaves the 8mm diameter slot vacant.
In this case, I am playing it safe. I am going to try Ultrascale 2ft 9in (11mm) disc wheels, which just about do for this one.
Other Choices for Railcars
Now that the Nucast Sentinel railcar kit is back on the market, I do have at least one other kit option to go for. More of that in due course, as straightforward construction of the kit (as designed) wouldn't really be my style. A bus conversion, Irish style, would also be an interesting idea, but relies on finding a good body for a believable rail conversion.
Otherwise, it is pretty much scratch building from bare metal or plastic, which is hardly a quick win. I have found a few really interesting vehicles I would like to model, but they will probably have to wait until the layout has progressed a long way and I have far more time on my hands for stock building.
If there is anything I have missed, or other ideas that you can come up with, please do comment.